Stand among the sheep in the foothills of the Sperrin mountains and feel immediately welcome. Marvel at the skill of the working dogs in this epic Irish landscape and feel a sense of belonging. Make memories to last a lifetime at Glenshane Country Farm.
Alive in the moment and
rooted to the past in a land
untouched by time.
Step into a world that is both remote and immediately comforting as Jamese McCloy, a fourth generation shepherd and sheep farmer gives you first hand experience of centuries-old skill of herding in one of the most untouched natural environments in Ireland.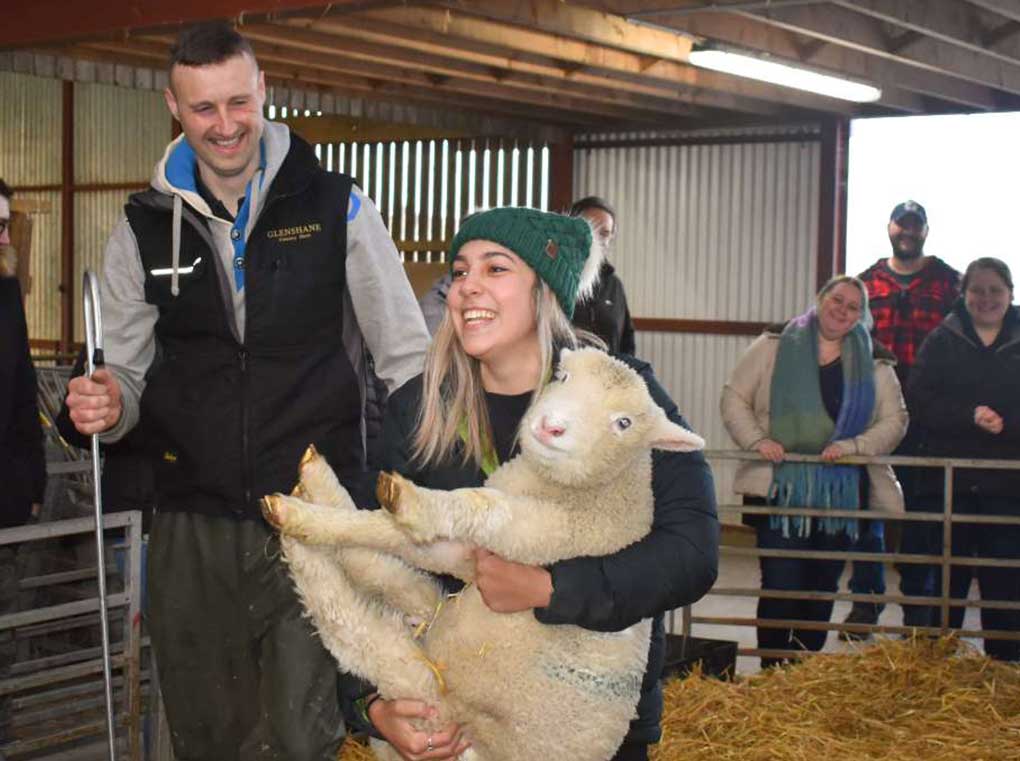 Find your feet right here
in our field!
Jamese isn't a performer. He is a real shepherd and farmer who genuinely wants his guests to share his pride in the animals and his sense of belonging. His charisma combined with the energy of the sheepdogs Moss, Tess and Jess and the inquisitive nature of the sheep, is guaranteed to bring you the warmest welcome in Ireland.
As one of the original chosen brand demonstrators, Glenshane Country Farm is proud to Embrace the Giant Spirit and support Tourism NI in offering tourists from around the world an experience to remember.
We currently partner with some of
the most respected tour companies in the world:
SHEEPDOGS AT WORK
Smart, skilled and very sweet - Moss, Tess and Jess show the sheep who is boss.
FIND OUT MORE
SHEPHERD'S LIFE
Exclusive to tour operators, there's no lying about under trees in this Shepherd's Life experience.
FIND OUT MORE
What Visitors Say About Our Experiences
Christy Lo Cascio
Sydney, Australia
January 2020
Awesome authentic experience in an amazing location! Definitely recommend!
Alyssa Marie
Australia
February 2020
We had an AMAZING time at Glenshane getting a shearing lesson and getting shown how clever the dogs are! Thankyou so much for having us for an awesome experience.
Amber Elizabeth
Adelaide, Australia
January 2020
Glenshane Country Farm is an fantastic family run experience located amongst the most stunning scenery! The farm is beautiful and you will get an authentic farm encounter!
Jillian Lyles
Dallas, Texas
March 2020
If you're looking for a true Irish experience look no further. Glenshane Country Farm was amazing. I learned so much about sheep farming, saw the skills of the adorable sheep dogs, and got to hold a sheep! I would 100% recommend this stop to anyone coming to Northern Ireland and will definitely come back if I ever venture this way again.
Will Webster
Bathurst, Australia
March, 2020
the experience was amazing and seeing how the farm work was a eye opener 👍
Kyle Johnston
Belfast
We went with the kids to see the sheep dogs what an amazing set up, family friendly and extremely welcoming. I would highly recommend a trip here, the dogs are unbelievable!
GLENSHANE COUNTRY HOUSE
GROUPS OF UP TO 8
Stay at the Farm
Wake up to the sound of silence – book a retreat in a working farm in our hilltop house. Recently refurbished, our five star house sleeps up to eight adults.